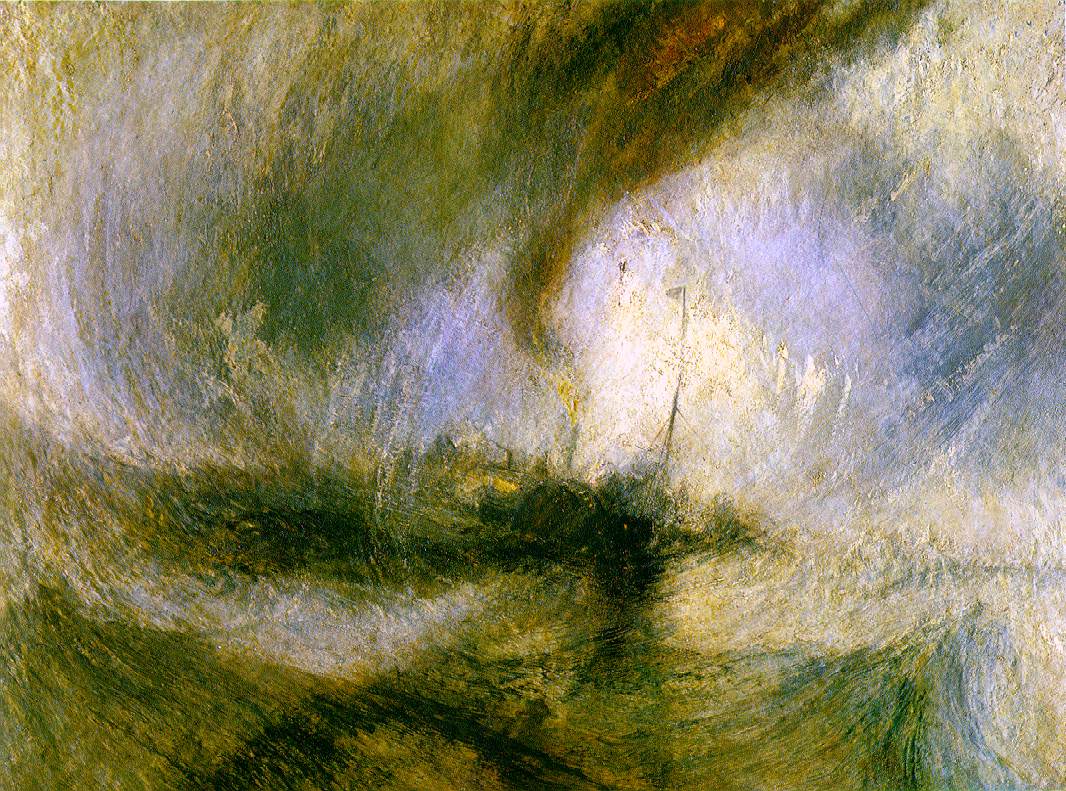 Snowstorm by Jospeh Mallord William Turner
I wake slowly, as if to fade from white, in a crashed helicopter on a snowy mountainside. The mountain is immense, with drifting snow and endless depressions and plateaus that show a premature horizon, not unlike a ski hill. I walk alone, as a sole survivor down to the base of the mountain. At the base, I find a house occupied by an East Indian family who seem active in the military, as a man proceeds from the house in uniform. Though I am hurt, and look foreign to them, they barely notice as I ask for their help next to their low fencing around their estate. The lady within the grounds of the house suddenly notices me, however there is no exchange, I could be invisible. Suddenly I find a small vehicle, similar to a scooter, however powered and able to push through the snow.
Next, I am in what seems as a coastal village in Egypt or Mexico or a place similar. I seem to have lost my powered scooter, however I see them around the village in different forms. The village, in some ways, appears to look like Sayulita, Mexico or Abu-Seer, Egypt. There are children running about and I befriend two young women about my age. These two young women remind me of two young women I met in Mexico City, Mexico. One of them is more fair-skinned and the other with dreadlocks and a bit of a darker character in general. I become somewhat attached to them as they help me around the village to find a powered scooter that is available. I find one within someone's small yard near to a river and leave the girls behind.
Next, I am in a classroom style room, however without standardized desks, and the front of the room is occupied with a band. The band is very talented, playing mathematically-timed jazz/rock type music. The keyboardist is the front man and leads the band. I enjoy the music. After the show, the keyboardist begins to speak about the music, and the audience opens for questions.
Later, I meet the keyboardist at a bar/restaurant on Stephen Ave. in Calgary, AB. I don't order any alcohol; however he is drinking and sits beside me. I compliment him on his music and we engage in steady conversation. I ask about the inner dynamics of his music and he accommodates my questions well. I then tell him that I am part of a music project with my wife. I introduce him to her instrument, the Chinese zither, and say that I play an Egyptian doumbek drum. He is intrigued, however when I say that we only improvise and play spontaneously he says that he can not do that, which I can understand from listening to the highly methodical nature of the music.