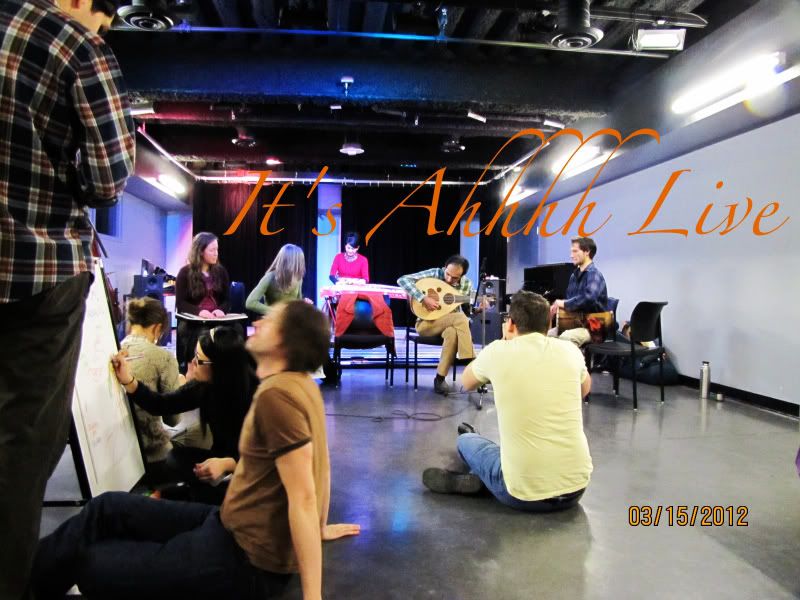 "Epcor Centre for the Performing Arts
yycARTS CoLAB
is a free program that provides an opportunity for the public and artists of different disciplines to collaborate in real-time and be inspired to interact and explore in a welcoming and inclusive environment, embarking on a journey of artistic discovery."
Source
As
Vi An Diep
artist facilitator of the event, writes:
"the action, the movement, the expression, the animation of thoughts and feelings, the conversation, the interaction, sharing, common need to continue thriving and dreaming!!!"
More Media:
Calgary Herald
&
Avenue Magazine
&
Lonesome Cosmonaut
________
In the starkly lit, opaque backdrop of darkness behind the closed curtains at Jack Singer Concert Hall, I sit at a piano bench with a local classical percussionist in Calgary named
Malcolm Lim
. He offers me tickets for free for my wife and me to see an upcoming show. When I return home, my wife tells me she can't make it that day, so I leave the tickets with my parents. Curiously, I am in my mother's house, where, with my stepfather, they endeavor to take the tickets and see the show. That night, at my childhood home alone, I am visited by Allen Ginsberg. I am exceedingly enthusiastic to receive him in my presence. He tells me that he is in some kind of rush, though we speak about my writing only in passing and continues on about his needs, he seems as a spiritual vagabond of wandering ghosts. He sits at a computer, where he tells me to fish out some of my writings. Excited as ever, I return back down, where he is in the exact same position. I give him my writings and proceed to tell him that William Burroughs appeared to me in a dream not too long ago. Ginsberg emits a refreshing glow as he announces quietly that he must leave. With flighty humor, he asks me for twenty dollars. I am so distracted by the fact that he is reading my work that I can't seem to get his joke, referring to a recent Egyptian official I had to deal with in New York for my immigration to Canada. Without a word more, he saunters off into the edgeless yonder. A few moments later, my parents return. I let them know the true origin of the tickets, at which time they seem exhausted, and apologetic.
_______
écrit par anonyMO'us
All People of the One, and Only Earth:
Clear your names in the sky!
Listen to others. Hear dreams in the subtle nuance of each letter voiced by our fellow artists, visionaries and seers of creation. Come to know the role of the artist. They hold many keys to our creational origin and our final undoing. In brotherhood and sisterhood, through respectful listening to our fellow artists, we may understand the cyclical flow of sacred continuity and the mysteries of Life.
- Opening Paragraph of "Community Arts Manifesto", the first contribution to "IT'S AHHH-SCRIBED" an Impromptu Weekly Community Arts Literary Journal (to later appear on online in full)